At Advanced Cosmetic Surgery & Laser Center, each of our skincare services listed below are customized for the needs of each particular patient. Ask how you can save 10% or more on your services by joining our WISH! Advanced Loyalty Rewards Program.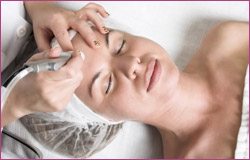 Brow Sculpting: Enjoy the results of professional shaping of your eyebrows.
Brow Tint: Adds color to your brows quickly and easily for natural-looking results.
Lash Tint: Darkens and defines your eyelashes.
Chemical Peels: Medical grade chemical peels targeting everyone's needs and concerns in varying levels form light to medium depth including peels from SkinMedica, PCA and Hale
Chemical Peels Starting at $75
Advanced Facial: Our never-hurried customized facial deep cleanses, balances the skin's moisture, and relieves stress.
Dermaplane:  Simple and safe procedure for exfoliating the epidermis and ridding the skin of fine vellus hair (peach fuzz).
Microneedling Therapy: Collegen induction therapy is a minimally invasive skin-rejuvenation procedure that involves the use of a device that contains fine needles.
Acne Treatment: A series of four to eight weekly treatments yielding remarkable success in the treatment of acne.
Light Therapy (ClearTouch & LED Light Therapy): Using lights to penetrate the lower layers of your skin and initiate a reaction that destroys acne at its root.  For optimal results, at least 8 treatments over a 4-week period are recommended.
Venus Viva – Skin Resurfacing & Skin Tightening:  Works to improve the overall texture of your skin by addressing a wide range of common concerns.