FINANCING YOUR FACE
Cosmetic Surgery Is No Longer Just For The Rich and Famous!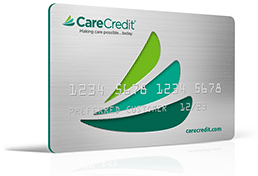 Finance cosmetic surgery and other beauty procedures and get the look you want now with CareCredit's convenient monthly payments and promotional financing options.
Click here to apply for CareCredit https://www.carecredit.com/apply/
In addition to Care Credit, which has interest free short term loans, we also offer longer term financing options with Prosper Healthcare Lending, a nationwide patient financing company that specializes in cosmetic surgery. Prosper Healthcare Lending connects you with simple interest installment loans from multiple lenders. As of 2015, Prosper Healthcare Lending had helped more than 300,000 patients fund $5 billion-plus in cosmetic surgery.
Benefits of Financing
Here are some of the benefits you'll receive with a loan from Prosper Healthcare Lending:
Immediate decisions for loans under $35,000
Terms up to 60 months (affordable monthly payments)
No collateral required
No prepayment penalties and no retroactive interest
Fast & easy loan inquiry process that does not affect your credit
100% Confidential
What you should know
Interest rates typically range from 7% – 20% APR
Minimum loan amount is $2,000
Origination fee of 2% – 5% will be rolled into loan payments
Surgery must be completed within 30 days of funding
You will be required to verify your income
Our Provider #028214 is needed when applying
Receive an instant decision without affecting your credit.
Review multiple loan offers – Review the terms and finalize the loan online. Keep in mind a 2-5% origination fee will be added to the loan you select.
Receive funding directly to your bank account within 5 days.
Fees and Payment Policies
Cosmetic plastic surgery procedures are not covered by insurance and are therefore paid by the patient.  After your consultation with Dr. Mendelsohn or Dr. Maier, you will be provided with a detailed financial quote for your planned procedure which will also include the cost of anesthesia (if it is required), and operating room fees.  Procedures which are cosmetic in nature and are not covered by insurance include:
| | |
| --- | --- |
| FACE | BREAST & BODY |
| Eyelid lift (blepharoplasty) | Breast augmentation |
| Brow lift | Breast lift |
| Face lift | Breast reduction |
| Neck Lift | Fat grafting to breast |
| Fat grafting | Tummy tuck (abdominoplasty) |
| Rhinoplasty | Liposuction |
| Laser resurfacing | Arm lift |
| Chin implant | Thigh lift |
---
Fees and Payment Policies FAQ
Cosmetic surgery procedures will typically have 3 components to the total fee:
Surgeon fee – the fee charged by the surgeon(s) performing your cosmetic procedure(s).
Facility fee – the fee for the use of the operating room, equipment, and supplies related to your cosmetic surgery.
Anesthesia fee – the fee charged by your anesthesia provider for your cosmetic procedure(s).
CINCINNATI, OHIO — It's happened. "Plastic surgery has moved into the middle class", says Dr. Jon E. Mendelsohn, Medical Director of the Advanced Cosmetic Surgery & Laser Center.
According to Mendelsohn, "A recent study by the American Society of Plastic Surgeons determined that almost 30% of the people considering plastic surgery had incomes of less than $30,000 per year. Another 41% had incomes between $31,000 and $60,000 per year. What used to be considered a luxury item for the very wealthy has moved into the middle class." Mendelsohn suspects that reality TV shows such as ABC's "Extreme Makeover" have added to its broad appeal.
How does a person with a household income of $31,000 afford cosmetic surgery?
"By financing it", says Don Goldberg, President of M-Lend Financial, based in Beechwood, Ohio. Goldberg secures the financing for Dr. Mendelsohn's patients, as well as hundreds of other surgeons across the country. Goldberg has seen a marked increase in the number of his clients who are financing plastic surgery in recent years, and says that breast augmentation, in particular is "on the rise," with non-surgical skin care procedures coming in a close second.
According to Goldberg, the type and term of the loan largely depend upon the client's credit history. "I can obviously secure lower interest rates for those with superior credit ratings," says Goldberg.
"Additionally, with good credit, the approval process can often be immediate, with funding secured within a week." He added, "The terms of the loans vary, depending on which company I use, but 5 years is typically the longest."
Says Dr. Mendelsohn, "In today's society, consumers finance everything from their cars to furniture and appliances, without batting an eye." He added, "And a new face, jawline, eyelids, or brow, will last much longer than a car or a couch! We have seen the number of patients financing their plastic surgery double between 2004-2007, paralleling the national trend."
According to Mendelsohn no amount is too small or too large to finance, with clients financing anywhere from $1,000.00 for a series of Botox® injections to $8,500.00 and up for a single surgical procedure.
Dr. Jon E. Mendelsohn is double board certified by both the American Board of Facial & Reconstructive Surgery and also the American Board of Otolaryngology – Head & Neck Surgery. He serves as the medical director of Advanced Cosmetic Surgery & Laser Center's new, state-of-the-art facility located in the Rookwood Tower in Hyde Park. For more information, call 513-351-FACE, or visit www.351face.com.