Mid-Facelift (Cheek Lift)
Addresses the following concerns:
Hollowness under the eye area and deepening of the tear trough.
"Falling" cheeks, resulting of hollowness of the central face and deepened nasolabial folds (laugh lines.)
Lack of definition of facial features.
Mid-Facelift Animation Videos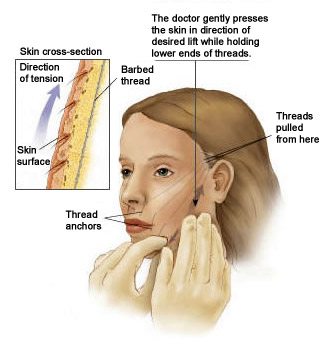 Three well-hidden incisions are used. One inside the mouth, to release the tissue from the malar eminence (cheekbone) to allow it to be lifted. A second below each eye, directly under the eyelashes. A third within the temporal hairline, used to fixate the lifted tissue to the deeper fascia.
Procedure takes about one hour.
Outpatient procedure using MAC anesthesia in our own AAAHC accredited surgery center.
You can shower the day after surgery.
No drains are used.
You should sleep and rest with your head elevated for one week after your procedure.
Pain is minimal, should subside after two to three days, and is easily controlled with medication.
Swelling in the mid-face area is moderate, resolving in three to four weeks.
You will come in for a checkup the day after your procedure, sutures are removed at around six days.
You may wear makeup the day after surgery (avoiding incision areas) and appear comfortably in public in three to four days.
You may resume limited activities within the first week and most activities after two weeks.
A more youthful look with clearer definition of facial features the week after your procedure.