Addresses the following concerns
Desire for a more youthful appearance.
Excess fat under the chin and along the jaw line.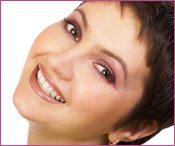 Facial Liposuction Procedure
Outpatient procedure performed in our AAAHC accredited surgery center under local anesthetic.
Takes about thirty minutes.
A tiny incision is made under the chin, and a cannula attached to a suction device is inserted. The unwanted fat is loosened with a local anesthetic solution and by moving the cannula back and forth, and then is suctioned from the area.
No drains are used.
A light dressing and a gentle compression garment are then applied over the incision area.
Facial Liposuction Recovery
You will need to sleep and rest with your head elevated for a week after your procedure.
You may return to almost all activities by the next day.
You can shower the day after surgery.
Discomfort and pain are minimal, and easily controlled with medication.
Swelling is mild to moderate and peaks at two days, rapidly disappearing over the next three weeks.
Makeup can be applied as early as the next day.
Facial Liposuction Result
A beautiful and balanced profile is visible after swelling subsides, and only improves over the next couple months.
More confidence in appearance.