EMSCULPT
Amazing New Technology to Burn Fat and Grow Muscle
Exclusive EMSCULPT & EMSELLA Provider in Cincinnati
Our Advanced Cosmetic Surgery & Laser Center, located in Cincinnati, is pleased to be the first and exclusive provider of a brand new technology.   This treatment is a complete game changer for the industry, as it's a first of its kind, the current approach to body-shaping contours through the elimination of fat and circumferential reduction.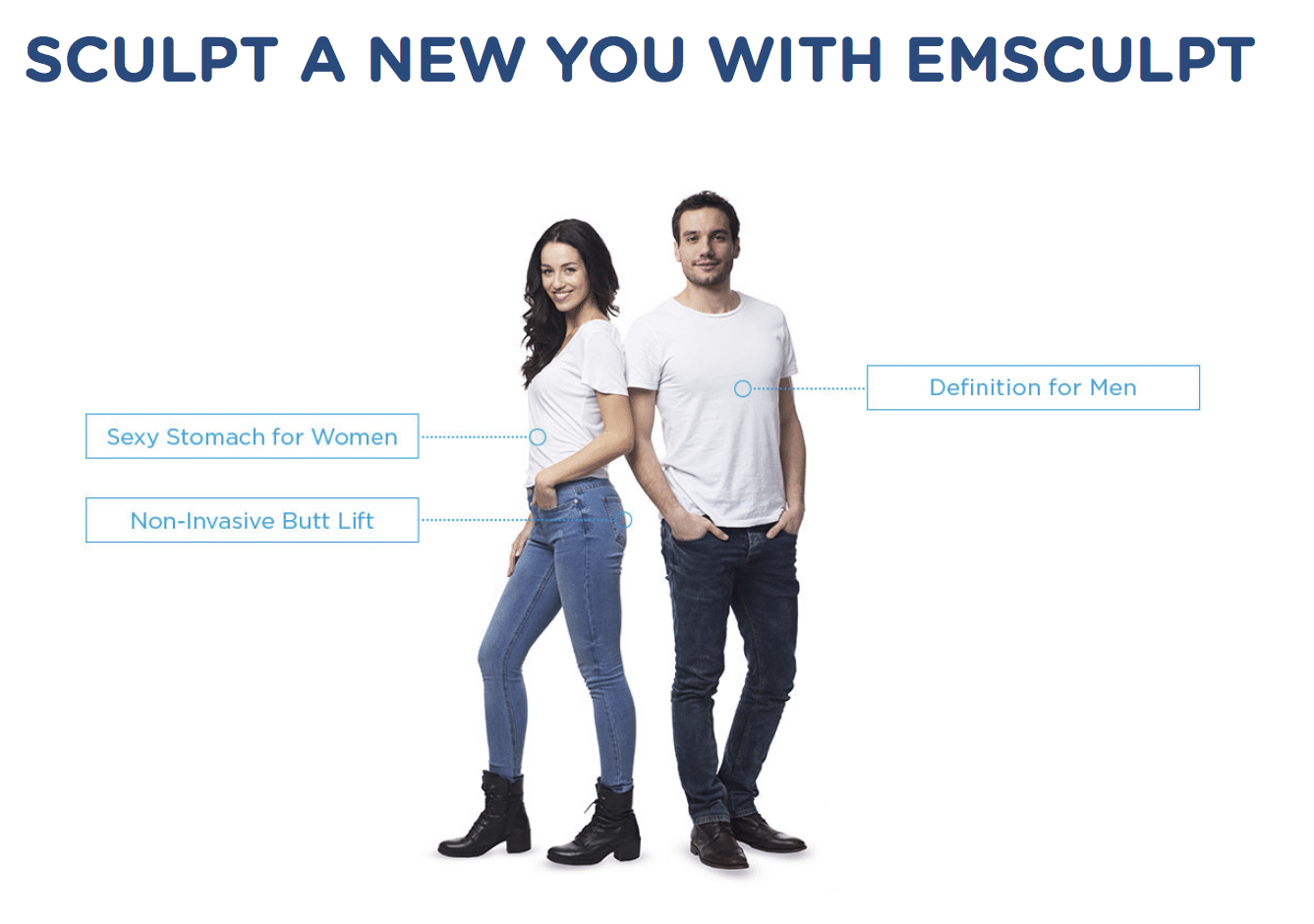 WHY IS EMSCULPT THE BREAKTHROUGH IN NON-INVASIVE BODY SHAPING?
EMSCULPT is the world's only non-invasive body shaping procedure to simultaneously build muscle and burn fat. In addition, the EMSCULPT creates a world´s first non-invasive butt lift procedure.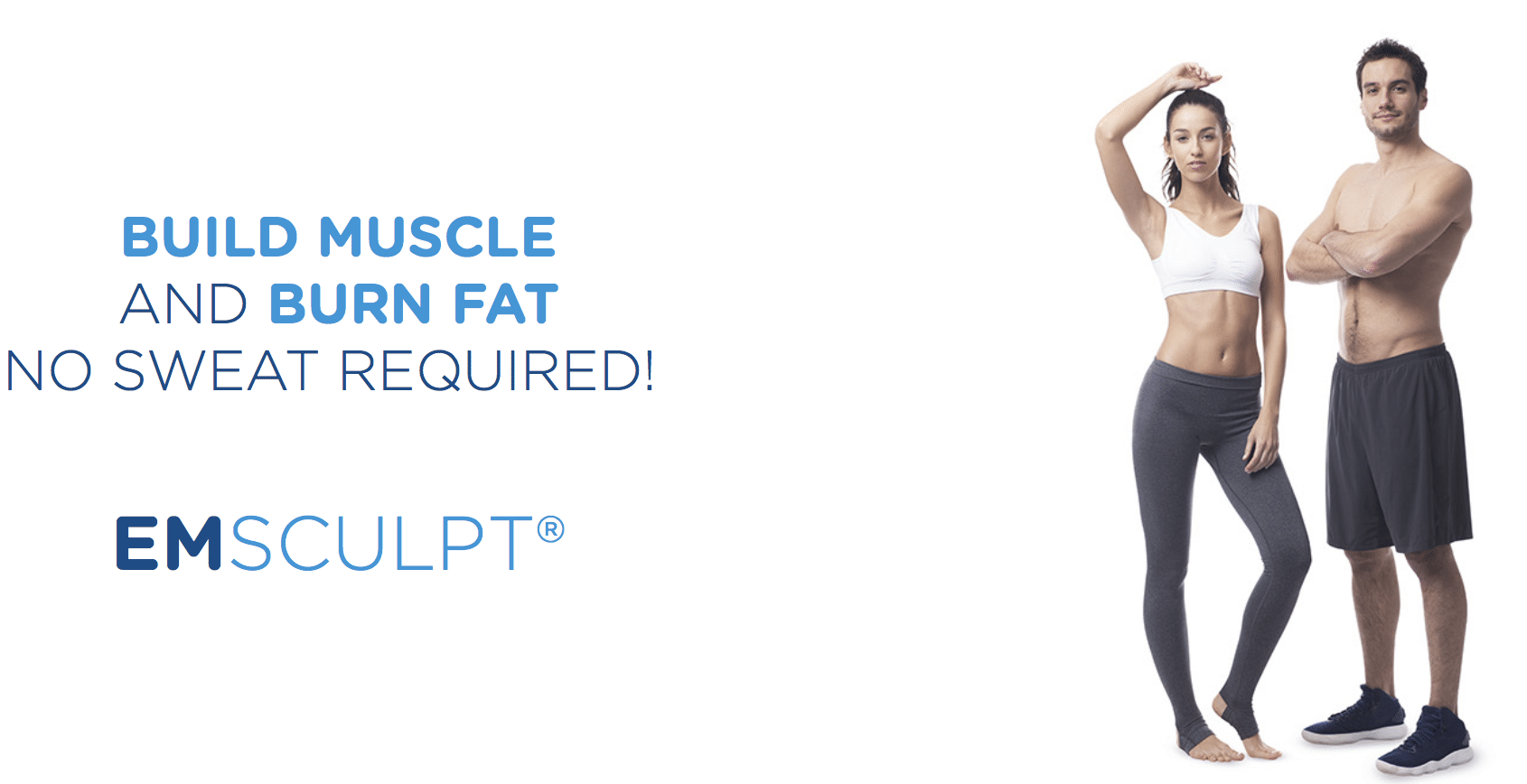 Anyone can benefit from the EMSCULPT procedure. Come in for your FREE evaluation.
WHAT IS THE TREATMENT TIME?
30 minute treatment with minimum of 4 sessions scheduled 2-3 days apart. Your provider will help you create a treatment plan tailored to your specific goals.
The EMSCULPT procedure feels like an intensive workout. You can lay down and relax during the treatment.
IS THERE ANY DOWNTIME? ANY PRE/POST TREATMENT PREPARATION?
The EMSCULPT is non-invasive and requires no recovery time or any pre/post treatment preparation.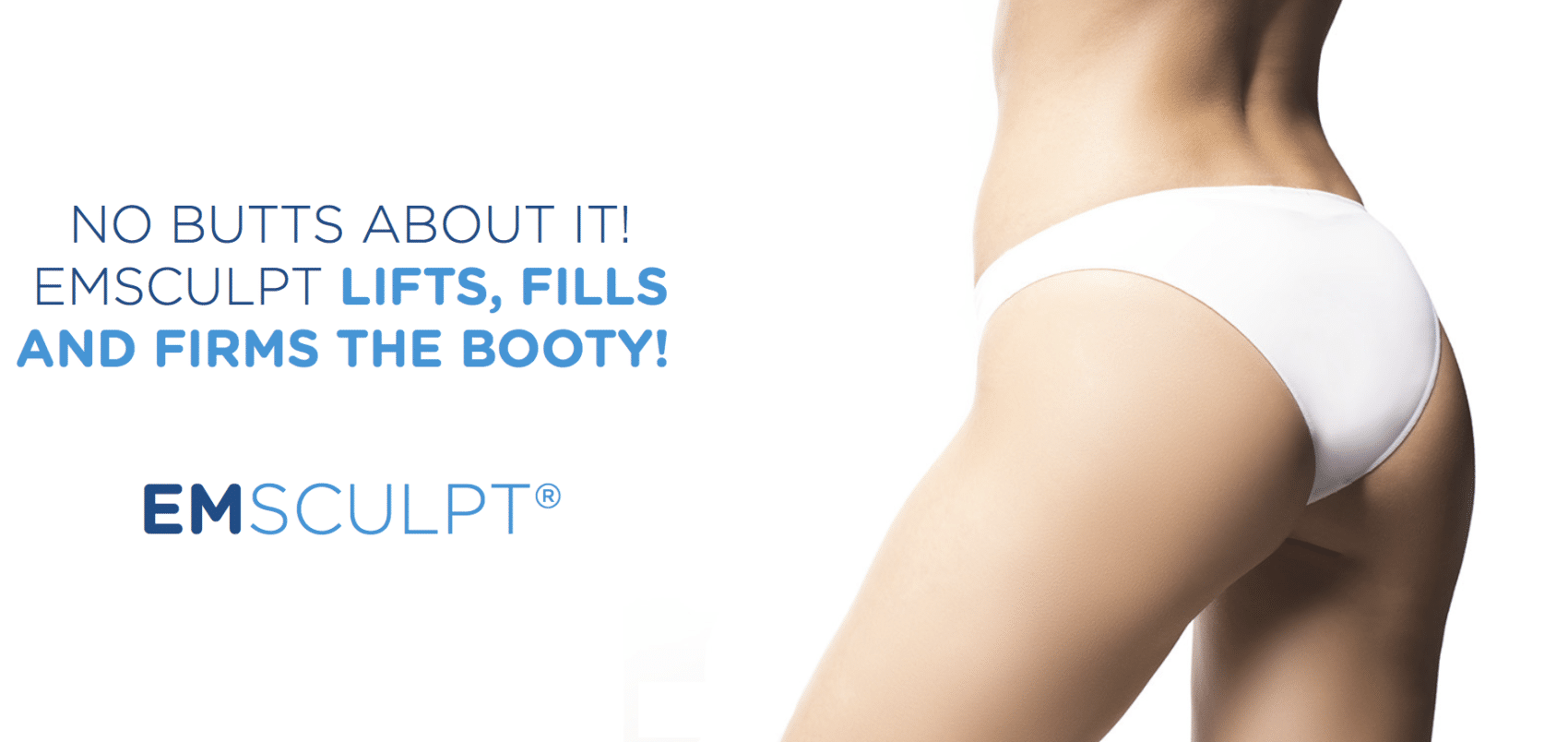 YES! The EMSCULPT has been clinically tested for safety and efficacy through seven independent US based clinical studies.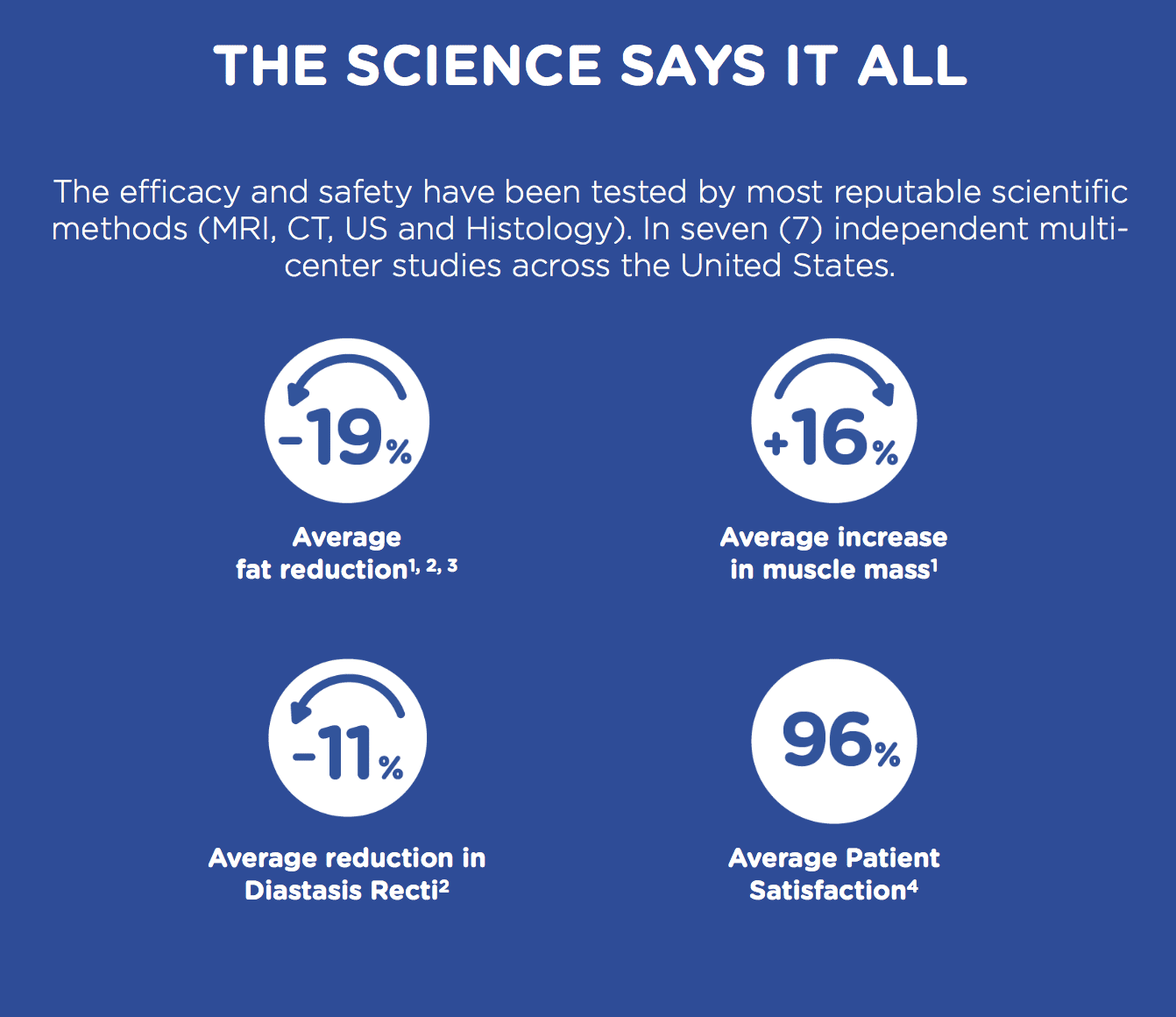 HOW FAST WILL I SEE RESULTS?
You begin to feel tangible results right after the treatment. Positive results are usually reported two to four weeks after the last session and continue to improve for several weeks following the treatments.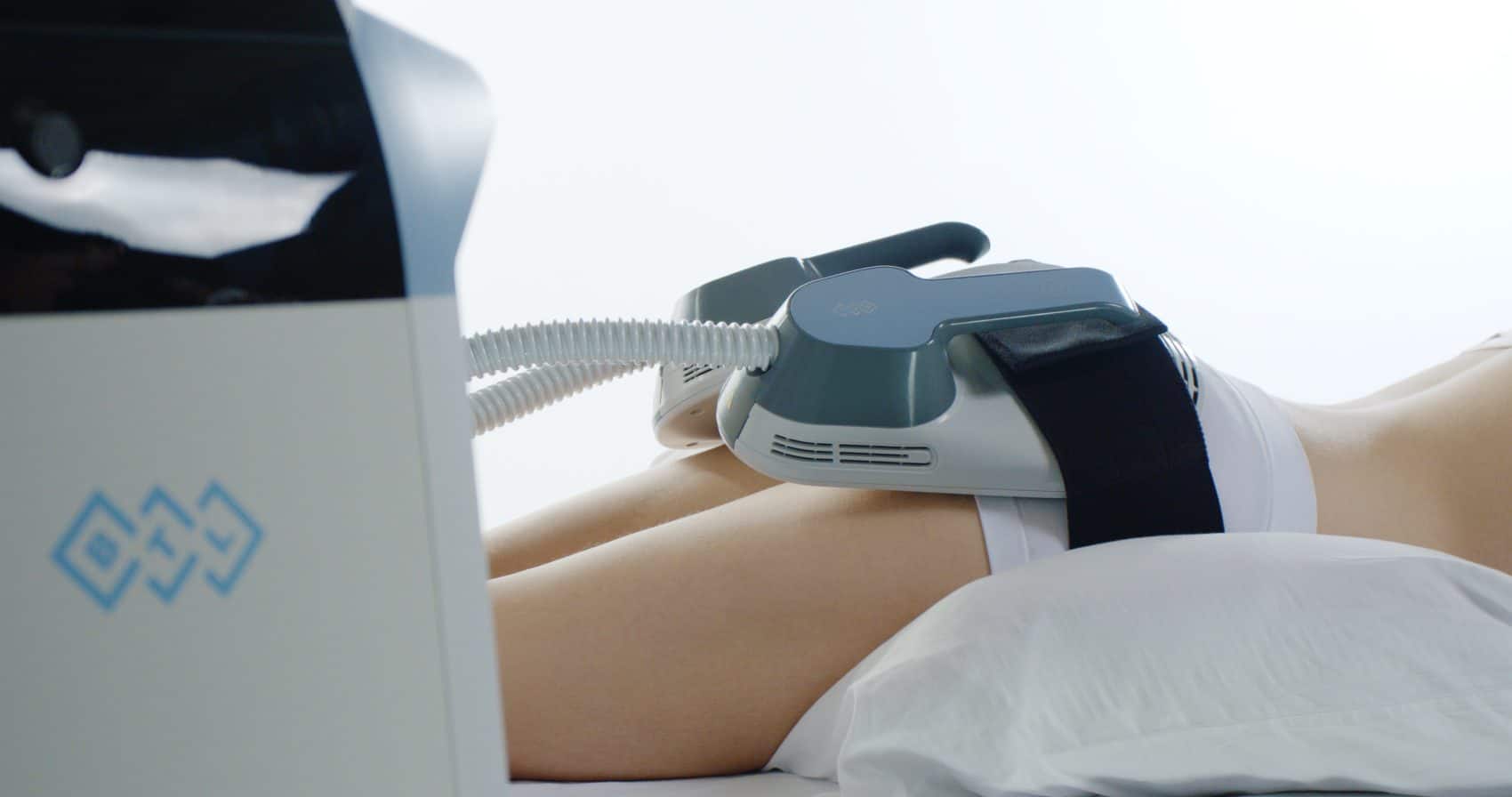 WHAT EXACTLY HAPPENS DURING A TREATMENT?
What will happen to your body: "BTL Emsculpt utilizes two panels to deliver a HIFEM magnetic field technology—it penetrates through your skin to impact fat as well as muscle tissues. Once penetrated, the energy induces approximately 20,000 supramaximal muscle contractions per session, which are normally not achieved by voluntary muscle action. The contractions result in a rapid metabolic reaction in fat cells to not only strengthen and build muscle but also break down fat. This is the only technology that destroys fat while simultaneously building muscle, all while leaving the surrounding tissues unaffected."
 What you will feel: "The treatment is completely painless with no downtime, so patients don't feel much of anything. The next day, you may feel like you've had a moderate abdominal or butt workout. Nothing painful, just slight soreness."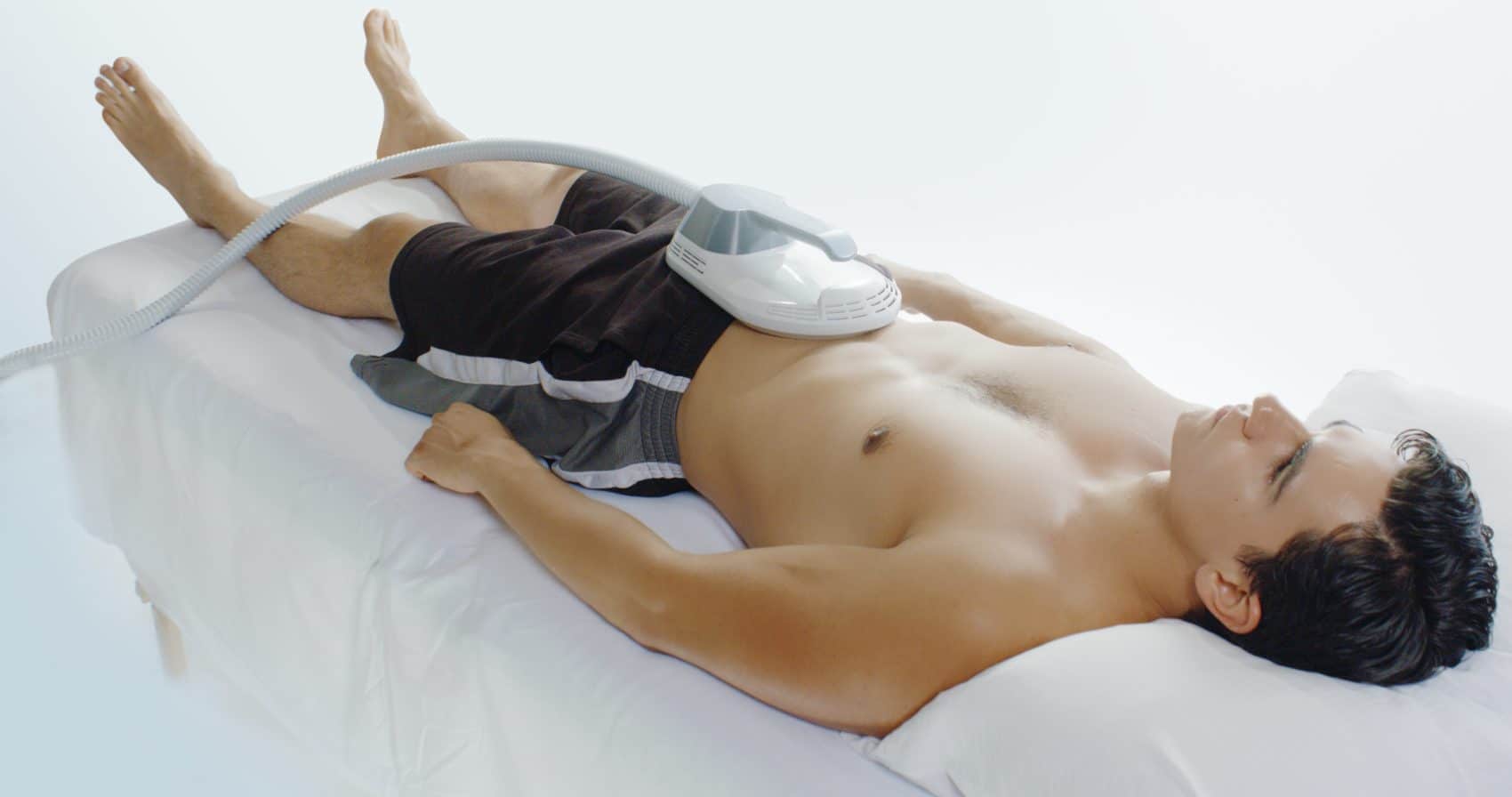 WHY WOULD I BE INTERESTED IN DOING THIS?
"This treatment is a complete game changer for the industry, as it's a first of its kind, the current approach to body-shaping contours through the elimination of fat and circumferential reduction. What most people don't realize is 35% of the body is muscle, 25% is fat, and 16% is skin, and current body shaping techniques fail to address muscles, which greatly affects our body's contour. BTL Emsculpt finally goes beyond just waistline reduction and elimination of fat cells to provide a dual treatment to address fat and muscle tone.
 "This treatment creates a completely noninvasive alternative to the Brazilian butt lift and other more invasive butt lifting and augmenting procedures. Beyond its current popularity, those types of surgical procedures frequently come with a high risk—there have been several cases of people dying, and, even successful cases result in significant downtime. However, BTL Emsculpt gives a safe and efficacious, noninvasive alternative which hasn't been available previously."
HOW LONG BEFORE I SEE RESULTS?
"Patients will begin to see results after the final treatment, though some have reported results as early as the third treatment. However, results continue to improve within the weeks following, with continued improvement over a six-month time period. You can continue with more than just four treatments for even more visible results."
YouTube: https://www.youtube.com/watch?v=TsaHVCm4PVo
Twitter: https://twitter.com/Mizzfit_Bianca/status/1022529571722276864
Facebook 1: https://www.facebook.com/bejaded/videos/10156521688737856/
Facebook 2: https://www.facebook.com/Mizzfit.Bianca.Jade/posts/10160627311280228
NewBeauty.com (UVM: 793,100) – Agnes, the new President of New Beauty Magazine, took Emsculpt for a test drive and gives a first person account for the treatment in a story titled, "The New In-Office Treatment That Tightened One Woman's Stomach in Just Two Weeks." The piece highlights the experience for a patient over the course of two weeks, as the treatment complemented her "already active lifestyle." The story goes on to describe how the treatment works, while discussing the process of receiving it, noting the "strange sensation" one can feel to "experience involuntary muscle movement."
The patient (who's name had been changed within the story) shared that she was sore the next day, but "in a good way" as if she had worked out the day before. She also noted that she could feel a "big difference" in how toned her muscles felt. The story continues on to feature the price point of the treatment, and includes before and after images throughout, as well.
Web page: https://www.newbeauty.com/blog/dailybeauty/12558-emsculpt-review/
NB Newsletter: http://view.newsletters.sandow.com/?qs=b49ccf2998150ab706c598a59f9ec4455a44eb97c7c0f8258d3e72a8b6db6d54b3f09eafcaaacb7366f6c0e862af647df77e8ad10a9c318ac3ba63214ba763ee59e4e2d8ae109c3d
Facebook: https://www.facebook.com/100226490238/posts/10156519904125239
Instagram: https://www.instagram.com/p/BqvLhriDsCu/#advertiser
Yahoo.com (4,570,000,000) – repurposed the New Beauty article
https://www.yahoo.com/lifestyle/office-treatment-tightened-one-woman-202231600.html
Bloomberg Business Week  (1,900,230) – featured Emsculpt in a story titled, "In The Future, This Machine May Do The Work For You." Dr. Ryan Neinstein describes the treatment as "athletic meets aesthetic," and notes the new technology for helping to tone both abdominal and gluteal muscles to the "tune of thousands of crunches and squats in just one session." The story proceeds to describe the process of receiving the treatment, and Dr. Ryan shares that his clients see results after four visits in two weeks, while a clinical study showed that 22 patients experienced an "average of 20% reduction in body fat in that time, and a 15 percent increase in muscle in their stomachs and butts."
Dr. Anthony Wilson shared that his clients are requesting the treatment in "high demand" as they're seeing "good improvement," with a more lifted butt and toned "six pack" abs. Dr. Neinstein also notes that the results seen in two weeks are "equivalent of a year's worth of gains in your core or your buttock."
View the attachment for the print piece
Bloomberg.com (91,220,000) – shared the article as well. Please find the link below and see attached for the full story.
https://www.bloomberg.com/news/articles/2018-11-22/soon-machines-like-emsculpt-will-do-your-exercise-for-you
Shape.com (6,460,000) – repurposed the initial story we shared with you earlier this month ("New Non-Surgical Beauty Treatments That Work Magic On Your Face and Body.") on their website.
https://www.shape.com/lifestyle/beauty-style/non-surgical-skin-care-treatments
https://americanhealthandbeauty.com/news/1304
Please see links below for the updated Emsculpt media content list!
Television
Emsculpt on The View: https://www.youtube.com/watch?v=y9d2XGacU68
Emsculpt on ET: https://www.etonline.com/media/videos/watch-dorinda-medley-test-out-new-cosmetic-procedure-that-promises-ab-tastic-results
Emsculpt with JD McCoy: https://www.abc15.com/lifestyle/sonoran-living/sl-sponsors/contour-medical-reduce-fat-and-build-muscle-at-the-same-time
Emsculpt on CBS with Katz: https://www.youtube.com/watch?v=g6lvhWR98f4
Coffee with America: http://www.coffeewithamerica.com/summer-beauty-kate-de-ponte
Emsculpt on Fox Chicago: http://www.fox32chicago.com/mornings/jake-hamilton-talks-with-josh-mcbride-about-spring-fashions
Let's Talk Live DC Getting Wedding Ready with Realself editor: https://www.youtube.com/watch?v=xa_EthdVzbw&feature=youtu.be
KRON4 Medical Minute: https://www.youtube.com/watch?v=lQ2uHzVbys8
HollywoodLife Butt Injections and Bruce Katz: https://hollywoodlife.com/2018/08/02/brazilian-butt-lift-warning-dangerous-plastic-surgeon-deaths-die/
WLWT5: https://www.wlwt.com/article/new-fda-approved-tool-promises-to-build-muscle-burn-fat-without-a-workout/22555112
Emsculpt on Good Morning America: https://www.youtube.com/watch?v=fkr52Ft4YmQ
Emsculpt on E!News:https://app.criticalmention.com/app/#/clip/public/2f0f4a64-2348-40a8-a25e-2d6aa8f90623
Emsculpt on Fox Chicago with Carolyn Jacob:https://www.fox32chicago.com/mornings/356614836-video
Emsculpt on 6 ABC WPIV with Dr. Richard Goldfarb: https://6abc.com/health/new-procedure-promises-to-cut-fat-build-muscle-non-invasively/4269224/
"Get Fit For Fall" with on-air lifestyle expert, Josh McBride on KCAL 9 News Sunday + CBD Vegas TV + promoted by WorldTopTrends.org:https://losangeles.cbslocal.com/video/category/spoken-word-kcaltv/3940060-lifestyle-expert-offers-ways-to-get-fit-for-fall + https://lasvegas.cbslocal.com/video/3940060-lifestyle-expert-offers-ways-to-get-fit-for-fall/ + https://worldtoptrends.org/lifestyle-expert-offers-ways-to-get-fit-for-fall-cbs-los-angeles/
Emsculpt on EXTRA with Ava Shamban MD:http://extratv.com/videos/0-6y9g4ri5/
Emsculpt on The Doctors with Brian Kinney MD:https://youtu.be/VMQlT7VVkR0
Emsculpt on The Morning Blend with Wisconsin Vein Center & Medispa: https://www.tmj4.com/shows/the-morning-blend/a-new-device-reducing-fat-and-building-muscle-1018
Emsculpt on Atlanta & Company with David Kent MD: https://www.11alive.com/video/entertainment/television/programs/atlanta-and-company/burn-fat-with-btl-aesthetics/85-8292975
Magazines – Please ask me for the magazine articles!
Emsculpt in Elle: See attachment
Emsculpt on US Weekly: See attachment
New Beauty Cosmetic Guide Editorial: See attachment
New Beauty (Summer/Fall 2018 Issue): See attachment
DuJour Nip, Tuck and Back to Biz: See attachment
STAR Magazine How to Slim Down Now: See attachment
Emsculpt in Town & Country "Easy Lift": See attachment
Emsculpt in Shape "Getting it Done": See attachment
Emsculpt in Harper's Bazaar: See attachment
Emsculpt in Health "Gold Rush" (December 2018): See attachment
Emsculpt in New York Lifestyles (November 2018): See attachment
Emsculpt in Bloomberg Business Week: See attachment
Emsculpt in Modern Luxury: See attachment
Emsculpt in Parents Magazine: See attachment
Digital Sites
Bloggers
Additional Emsculpt video content is posted on BTL Aesthetics Int. YouTube