Addresses the following concerns
Excess fat deposits in the arms, inner and outer thighs, buttocks, back, knees, or abdomen, especially those that have been treated unsuccessfully with diet, exercise, and weight loss.
For men, enlarged breasts (gynecomastia.)
Desire for a smoother, more fit-looking body contour.
Outpatient procedure performed under local, MAC (twilight,) or general anesthesia in our AAAHC accredited surgery center.
Tiny incisions are made in the skin, usually in the natural creases of the body, and a small cannula attached to a suction device is inserted. The unwanted fat is loosened with a local anesthetic solution and by moving the cannula back and forth. The excess fat is then suctioned from the body.
The procedure lasts anywhere from thirty minutes to several hours, depending upon how many areas of the body are treated.
After the fat is removed and the incisions are closed, a compression garment is applied to reduce swelling and provide support for the treated areas.
Liposuction Animation Videos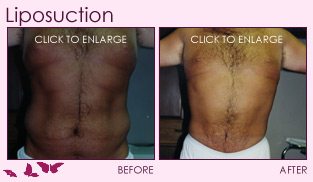 You should rest and have someone with you for the first twenty-four hours after your procedure.
You may shower twenty-four hours after your surgery.
You will need to wear a compression garment for six weeks. This garment is crucial to reducing swelling and developing the final contour of your new body.
Sutures are removed a week after your procedure.
Pain is minimal to moderate, and controlled with medication.
Bruising of the treated areas is normal, and subsides after one to two weeks.
You should avoid strenuous activities for one to two weeks. You may gradually increase your level of activity, resuming most normal activity by the end of one to two weeks.
Beautiful Waistline with Liposculpture
Slimmer and smoother figure.
Visible improvement at a week, with continued improvement over the next year.