Our Team at Advanced Cosmetic Surgery & Laser Center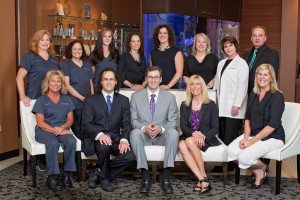 Our Patient Services Team!
Michelle Hoefker Marksberry, Practice Manager
Michelle meets our patients and clients with exceptional care, ensuring a friendly and efficient patient experience. Everyday, Michelle demonstrates her passion for nurturing relationships with patients, staff, and vendors in efforts to foster a dynamic environment and the best patient atmosphere, while supporting all divisions of our AAAHC accredited plastic surgery practice. Her extensive background in the areas of administration and human resources development, coupled with her creative spirit and remarkably positive attitude are a skill set that proves invaluable to our practice. Michelle is a graduate of the College of Mount St. Joseph in Cincinnati, OH where she earned a Bachelor's of Arts degree.
Email:  michelle@351face.com
Karen Lynch, Director of Marketing & First Impressions
Karen has worked for Advanced Cosmetic Surgery & Laser Center since 2009.  She is extremely service oriented and takes great pride in making sure each patient feels comfortable the minute they walk in our door.  In addition, Karen manages the marketing, PR and Social Media for the practice.  She brings over 25 years of marketing experience and strives to relay the quality reputation of our practice to the Greater Cincinnati area.
Karen enjoys spending time with her four kids as they play a multitude of sports.
Email:  karen@351face.com
Jamie Jordan, CST
Jamie began her career with our practice in 2010. As a CST, her primary focus is assisting our surgeons in our AAAHC surgical center. Additionally, Jamie assists in preparing our patients preoperatively, and provides compassionate postoperative care. Patients find her to be dedicated, attentive and professional in every aspect of her job.
Jamie received her Associates Degree in Applied Science from National College in 2011.
Email:  Jamie@351face.com
Lesleigh Stansel, Registered Nurse
Lesleigh has worked with Dr. Mendelsohn for more than 17 years and in the field of plastic surgery for over 20 years. Her current responsibilities include ensuring that the surgery center meets and exceeds the highest standards of care as established by the AAAHC accreditation guidelines. As a detail oriented person, Lesleigh enjoys taking a leadership role in all quality improvement, infection control and credentialing activities and takes pride in maintaining the accreditation status of the ambulatory surgery center since 2002.
Kellie Raffensperger, Registered Nurse
Kellie has more than 30 years experience working in the hospital setting and office based surgical centers.  Kellie has been with the ACSL Center since 2010. Kellie has experience in every aspects in our O.R. with her focus on preparing the patient for their surgical procedure as well as assisting them while they are here.  Kellie also educates the patient on their post-operative care.  Kellie enjoys spending time with our patients and prides herself in making them feel comfortable and relaxed while they are here.
Theresa Repass, Registered Nurse
Theresa has more than 25 years experience working in hospital surgical departments and office based surgical centers. Theresa has been with the ACSL Center since 2009. Although Theresa has experience in every aspects of our practice, her focus is in surgery.  Theresa is typically involved with each aspect of a surgical case.  She is a pre-op nurse, getting clients prepared for their procedure, she circulates and assists during the surgery, and then helps recover the patient in post-op.  Theresa prides herself in taking excellent care of her patients and appreciates the unique opportunity at the ACSL Center to help a patient through the procedure from start to finish.

Mark Lucas, Patient Educator
During his 12+ years with Advanced Cosmetic Surgery & Laser Center he sees first hand the excitement and relief our patients feel when they discover the difference that Dr. Mendelsohn's procedures are compared to what other physicians in his field are performing.
With over 18 years in the image enhancement business, Mark's passion for the Medical/Aesthetics industry is a great match for Advanced Cosmetic Surgery & Laser Center's practice.  Mark is always willing to take a phone call, email or text to answer any questions you may have!
When Mark is not spending time with his wife, Tracey,  and 3 kids, Reagan, Jack and Wesley, you'll find him working with his german shepherd, cycling and automobiles.
Email:  Mark@351face.com
Wendy Flynn, Licensed Managing Aesthetician
Wendy has been an aesthetician since 2009.  She regularly attends additional skin care product knowledge courses and aesthetics educational training in the science of the skin and it's required care on keeping it healthy and happy.  Wendy believes the aesthetics industry offers an on going learning experience and keeping up to date on the ever-evolving technologies and products in the industry.   Her passion for skin care makes her job an enjoyable experience each day.  Your skin is a lifetime investment!  From Facials, Dermaplaning, Chemical Peels, Microdermabrasion, and miscellaneous services, Wendy takes pride in her performance.
Wendy's connections with her clients establish trust and personal attention for their individual needs.  She also loves to teach her clients about the best care of their skin while at home.  It is her goal to use all available tools to help achieve the best possible outcome.  Although the procedures are unquestionably medical, she strives to give an enjoyable, relaxing and pleasant experience.