Skincare Services & Treatments
Along with a personalized at-home skin care routine and regular professional treatments, such as Dermaplaning, Microdermabrasion or Microneedling, we usually recommend a regular program of light facial peels. Light peels will help accelerate the effectiveness of your products by opening up the skin and helping it absorb the products.
Light peels work by gently removing dead skin cells. The regular removal of dead skin layers means the skin health products are always working on the healthiest skin. Peels also provide the added benefit of a generalized tightening of the skin which makes it look smoother and more supple.
At Advanced Cosmetic Surgery & Laser Center, each of our skincare services listed below are customized for the needs of each particular patient. Ask how you can save 10% or more on your services by joining our WISH! Advanced Loyalty Rewards Program.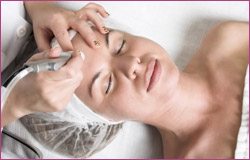 Dermaplane
A quick, non-invasive procedure that rejuvenates and revitalizes the skin by removing dead skin cells and fine, vellous hair (peach fuzz) on the face. This procedure improves skin texture when performed alone, but is especially effective when combined with a peel. Giving your face a cocktail of dermaplane with a chemical peel will produce stunning results.
Pricing – $120
Micro-Needling 
Trigger new collagen, smooth fine lines and wrinkles, firm mild skin laxity and soften scars. Micro-Needling Therapy is performed with a high-grade medical stainless steel micro needled pen that penetrates the skin's upper surface. This revolutionary treatment provides multiple benefits: Stimulates collagen growth that results in the improvement of the appearance of fine lines, wrinkles, acne scars, and stretch marks.Increases the absorption of the active ingredients in creams, lotions, and serums by up to 100%
Creates thousands of micro-channels in the skin that allow nutrients to absorb; the channels close after several minutes, locking in the anti-aging nutrients and anti-oxidants.
Cost effective and good for most skin types, 1-3 day down-time.
Pricing – Package Only
The PiXel8-RF (Micro-needling with Radio Frequency) 
A solution to help restore youthful skin without surgery or downtime.
We have introduced the PiXel8-RF to treat a wide array of dermatological procedures including skin tightening, wrinkle reduction, skin tone and texture improvement, neck lifting, and so much more.  PiXel8-RF is a minimally invasive fractional, bi-polar, Radio Frequency system that will disperse micro-needles deep within the dermis to produce dramatic skin tightening and skin rejuvenation and is safe to use on all areas of the body.  The PiXel8-RF combines the latest advancement in micro-needling and radio frequency (RF) techniques.
Microneedling continues to gain popularity, with celebrities like The Real Housewives, Kim Kardashhian, and others when they shared their experience and desire for younger looking skin.
Cost effective and good for most skin types, 1-3 day down-time.
Pricing – Package Only
DiamondTome Microdermabrasion
In this treatment, dead skin cells are exfoliated and vacuumed off the face with a machine that uses tips covered in tiny diamonds. The diamond tips, together with the strong suction, make it possible to exfoliate the skin cells more thoroughly than other procedures. With the flexibility of using different suction levels, it also increases blood flow to the skin, and that in turn helps to produce collagen.  DiamondTome Microdermabrasion leaves your skin feeling softer and smoother, looking younger and more vibrant
Price – $120 full face  – $65 t-zone
Chemical Peels
Chemical peels superficially injure the skin that provoke a wound-healing response that expels dark pigment. Peels treat wrinkles caused by sun damage and aging. For optimal results, peels should be done regularly once a month for 3-5 treatments.
We offer a wide variety of light peel procedures, most of which cause very little skin irritation or peeling. A skin health specialist who is closely monitoring your unique combination of products will be in the best position to recommend a peel depending on where you are in achieving your goals.
Light chemical peels can be a routine part of maintaining a normal, healthy skin appearance. Many patients enjoy having a light peel as a quick perk-up several days before a major event such as a wedding or class reunion.
Peels aren't necessarily limited to the face. We have many patients who enjoy the benefits of a peeling treatment applied to the neck, hands or forearms. A light peel in these areas fosters smooth, supple skin.
Pricing – Starting at $100
Advanced Facial 
Our never-hurried customized facial deep cleanses, balances the skin's moisture, and relieves stress.
Acne Treatment for All Ages  
A series of four to eight bi-weekly treatments yielding remarkable success in the treatment of acne, from teen bacterial to adult cystic and hormonal breakouts.  Problem areas may include face, neck and chest, as well as the back.
DiamondGlow Treatments
The Diamond Glow (DG) device is a dermal infusion procedure. This treatment offers a 3 part therapy in which the same wand delivers exfoliation, extraction and Infusion. What sets this apart from other offerings we have is that it is completely painfree, with no downtime and allows for a more relaxing facial-type procedure, while providing a medical-grade result. It's an excellent treatment to have in preparation for an event. It's completely customizable for any skin type and skin tone. It can also be performed all year round, regardless of sun exposure. https://351face.com/what-is-the-diamond-glow-treatment-best-skincare-treatments/
Pricing – $225
Package of 3 – $600
Venus Viva – Skin Resurfacing & Skin Tightening 
Works to improve the overall texture of your skin by addressing a wide range of common concerns.
Click Here for More Info on Skin Care Products & Descriptions