Addresses the following concerns:
Correct Torn, Stretched, Ripped or Gauged earlobes in less than 10 minutes
Lobuloplasty – Earlobe Repair
Lobuloplasty – Correct Torn, Stretched, Ripped or Gauged earlobes in less than 10 minutes
Liz Bonis discusses a very common problem that affects many patients.  The video below shows how this relatively simple process can repair torn, ripped, stretched or gauged earlobes in only a few minutes.
Updated: Sunday, November 23 2014, 08:08 PM EST CINCINNATI (Liz Bonis) — A woman from Anderson Township said she can't wait for the holiday season this year.     That's because she not only gets to dress up for holiday parties, but she'll get to wear earrings again.
It's all thanks to a quick earlobe repair procedure, which repairs a deformed earlobe.     From celebrities to artists to everyday girls, we all know it's the accessories, that make the outfit, and these days those often dangle from the ears, or at least they did for Judy Thompson, until something happened. "It's probably been 15 years ago that it broke through," said Judy Thompson. Judy now has a common problem that Dr. Jon Mendelsohn, a facial and cosmetic surgeon, said often happens as we lose ear volume over time. "It just begins to slowly stretch," said Dr. Mendelsohn. "It's a dynamic or elastic tissue and we start to see these tears." For Judy that was pretty devastating to hear. "I love some of my earrings so much that i started using superglue to glue the pieces together," said Judy. So rather than continue this way, Judy made the decision to have what's known as "a lobuloplasty," "A lobuloplasty is an earlobe repair procedure to repair a deformed earlobe," said Dr. Mendelsohn. For the ten minute procedure, the ear is simply numbed and the skin inside the tiny tear is removed so the newer skin underneath will grow back together.  It is then repaired with tiny dissolvable stitches. It will be about a week that Judy will need for healing before the hole closes up. In a month Judy can get her ears or that ear re-pierced, but it will be a little while before she wears anything heavy and dangling. While we are not what we wear, Judy has said that she agrees with what Dr. Mendelsohn said he is told a lot, that "Most people don't feel whole again until they have their ears back and they are wearing earrings."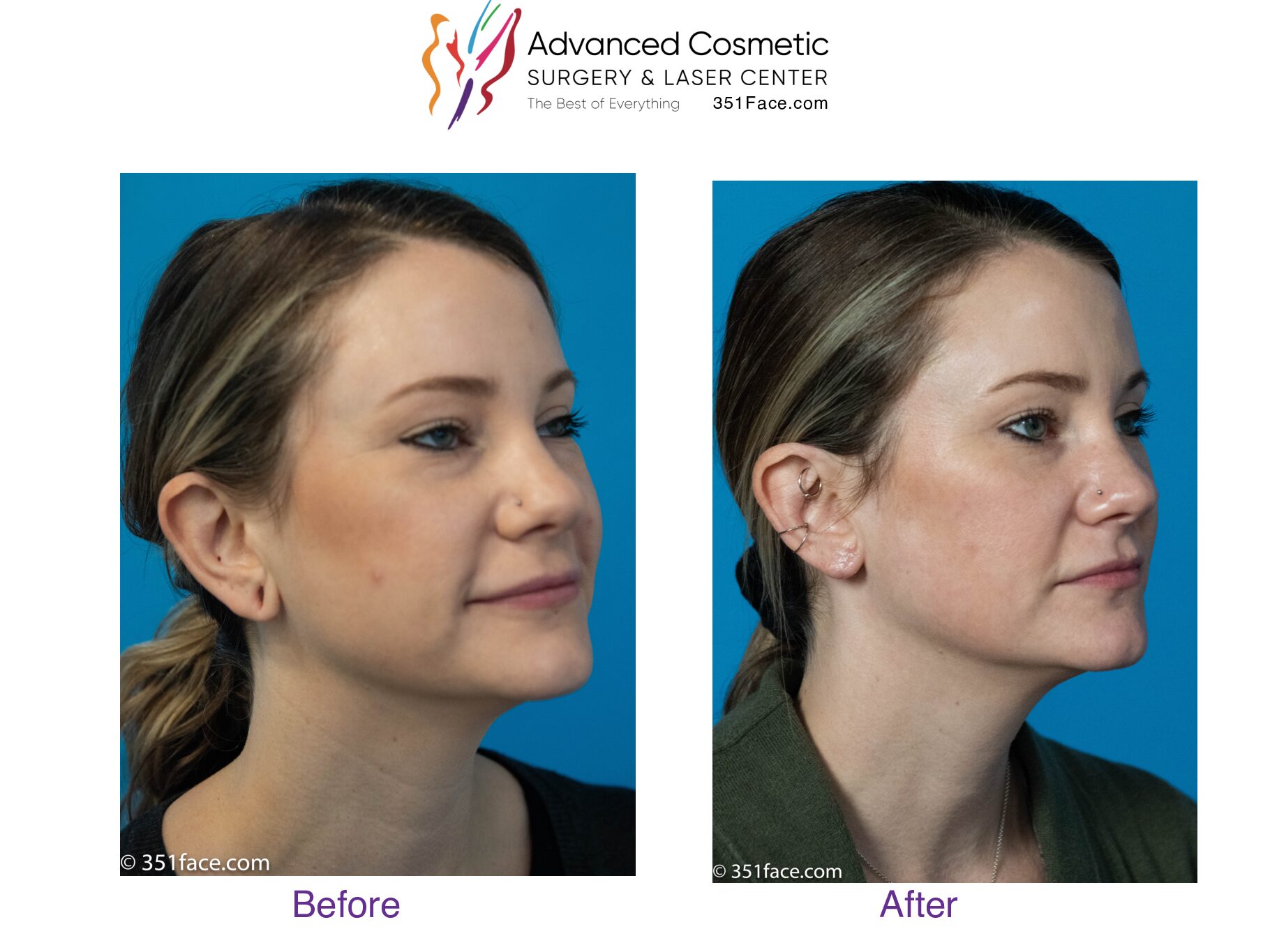 Lobuloplasty is a surgical treatment option to repair the earlobes. Our earlobes are an extension of our face and our team understands the importance of restoring an aesthetic appearance to this area. Rest assured; you will be in great hands with our surgical team for a relaxing, no-stress experience along with a beautiful result.
There are a variety of conditions that can be successfully treated with Lobuloplasty, such as: 
Ear piercings – Years of wear with heavy, dangling pierced earrings can take their toll on the earlobes causing both stretching and tearing, leading to long, unsightly ear lobes over time.

 

Aging – Usual skin aging causes thinning of the earlobe tissue and skin, leading to an elongated, sagging appearance of the earlobes.
Earlobe reduction – Lobuloplasty can be used to reduce earlobe size and help correct asymmetries.

 

Trauma – Partial and complete tears to the earlobe can come from an injury such as having an earring catch on clothes or a young child pulling on a sparkly earring.
Gauges – These are circular jewelry that incrementally stretch the earlobes. When gauges are permanently removed, wearers are often left with large holes that won't close on their own.
Military Personnel – It is common for those entering the military to request closure of their piercings, due to governing regulations.

 

Keloids – These are hypertrophic (overgrown) scars that grow beyond the site of initial injury, such as a piercing. Removal of the keloid and close monitoring afterwards to prevent recurrence, can have a greatly beneficial impact on someone's self-confidence and day-to-day life.

 
Lobuloplasties are performed within our office, in our accredited surgical suite by Hope Merz, DNP, FNP-C
Local anesthesia is used, so you can drive yourself home
The earlobe repair procedure itself typically takes 15 minutes per ear
Sutures stay in roughly 1 week
Ears can be re-pierced 6 weeks after surgery
If you are interested in meeting our team to receive pricing and more information regarding the lobuloplasty procedure, please click this link (insert new patient link) to schedule a complimentary consultation. 
After 1-month, Judy was ready to have her repaired earlobes pierced.  This very simple procedure only requires earrings and 5 minutes.
Outpatient procedure performed in our AAAHC accredited surgery center under local anesthetic by Hope Merz, DNP, FNP-C
Incisions are located in the crease behind the ear and are very inconspicuous.
Cartilage is gently reshaped then held in place with sutures.
Sensation and ability to hear are maintained.
A soft dressing is applied to the ears after surgery and remains in place for three days. An athletic headband is worn continuously for ten days and then at bedtime for at least three weeks.
Sutures are removed around six days after your surgery.
You can resume light activities the same or next day.
Swelling is mild to moderate and peaks at two to three days and then disappears rapidly over the next three weeks.
Beautiful, balanced results.
Natural and presentable appearance the same week of surgery.