Botox® Cosmetic for Severe Underarm Sweating
When is Sweat too much Sweat?
WHEN IS SWEAT TOO MUCH SWEAT?
For some people, sweating can go into overdrive. Severe underarm sweating, also known as severe primary axillary hyperhidrosis, is a condition in which the body sweats more than it has to in order to regulate body temperature. The severity of the condition is based on the extent it interferes with  your daily activities.
Botox can be injected into the skin of the underarm when topical products used to control sweating do not work, for people 18 years and older.
Sweating is good, most of the time. Sweating is normal and healthy. In fact, your body has between 2 million and 4 million sweat glands. When your body heats up, these glands release sweat to help cool you down.
What's considered "normal" sweating? There is no "normal"! Some people just naturally sweat more than others, so try not to compare yourself with others. However, if you do any of the following to cope with sweating, talk to us about our solutions.
-Need to change clothes frequently
-Layering or putting absorbent materials under your clothing
-Avoiding certain fabrics, colors or styles of clothing
When are antiperspirants and deodorants not enough? Over-the-counter and prescription antiperspirants are two of the first options people with severe underarm sweating try. These products work by blocking sweat ducts and reducing the amount of perspiration that reaches the skin. Deodorants help control body odor and are typically used in addition to antiperspirants. When these products don't work well enough, it may be time to ask about Botox.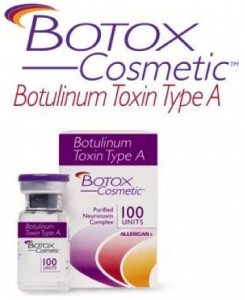 Addresses the following concerns
Treats the symptoms of severe underarm sweating when medicines used on the skin do not work well enough.
A tiny needle is used to inject a small amount of the medication into the area responsible for sweat.
Injection time takes a few minutes or less.
Virtually no recovery time, and no dressings or bandages are needed.
You may have small, red bumps at injection sites, that subside in 15-30 minutes.
Pain is minimal. Patients may experience brief, tolerable pain during injection, and a minor amount of tenderness after treatment.
You may go back to work with unrestricted activities immediately, just avoid pushing or rubbing on the treated areas for the rest of the day.
Beautiful and natural-looking softening or elimination of most affected wrinkles lasting 3-6 months.
Ask us about Special Package Pricing!
BOTOX® Cosmetic has also been used to effectively treat excessive sweating (hyperhydrosis) of the underarms, feet, or hands, as well as to minimize the length and severity of migraine headaches.
FAQs about BOTOX® Cosmetic