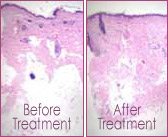 Advanced Cosmetic Surgery & Laser Center is pleased to staff a highly-skilled and caring team of Licensed Estheticians who work in conjunction with Dr. Jon E. Mendelsohn to help you achieve the optimum health and beauty of your skin. Our estheticians are experts at evaluating your skin's needs, and offering the most beneficial esthetic treatments—customized just for you. These treatments are wonderful on their own, or in combination with surgical, non-surgical, or laser treatments performed by Dr. Mendelsohn.
We also carry an expansive line of medical-grade skincare products. Our skincare team is pleased to offer complimentary consultations to discuss which products can help you best achieve your goals, or to help you find the perfect makeup to achieve a desired look.
Your skin is your largest organ and plays a vital role in detecting hot and cold, regulating your body temperature and protecting your muscles, bones and internal organs from outside infection and disease.  But that's just for starters,
good skin starts here
…..
Sun damage is the most common cause of skin redness, uneven pigmentation, fine wrinkling and dry skin. Many people also experience rough skin texture, enlarged pores, and pimples. All of these problems can be effectively treated with medically-based skin care programs.
The best skin care regimen is one that works below the skin's surface rejuvenating cell growth. In order for a product to penetrate the skin's surface and work on the underlying support structure, the concentration of active ingredients must be high enough to be effective. Most over the counter skin products are not strong enough to do the job. When using effective products on your skin, you should be monitored regularly by a medical professional trained in skin care.
We are highly selective about any skin care products we recommend. Products come on the market all the time and there is a wide variety available. However, there are ingredients that are common across most of the product lines. What changes between the product lines is the concentration of active ingredients and the way the products are combined.
During your consultation our skin health specialist will analyze your skin type, skin sensitivity, and improvement goals to choose the best combination of products for your condition. Plus, as you use the products, your skin will change and have different care needs.
Most at-home skin care programs include:
Cleanser
Antioxidants
Pigment Lightening Agents
Retin-A or Retinol
Moisturizer
Sunscreen
Plus, regular peel procedures done in our office
Skin Care Products – a wide variety can be tailored to your individual skin type.  We offer:
Alastin Skincare
ZO Skin Health by Zein Obagi
SkinMedica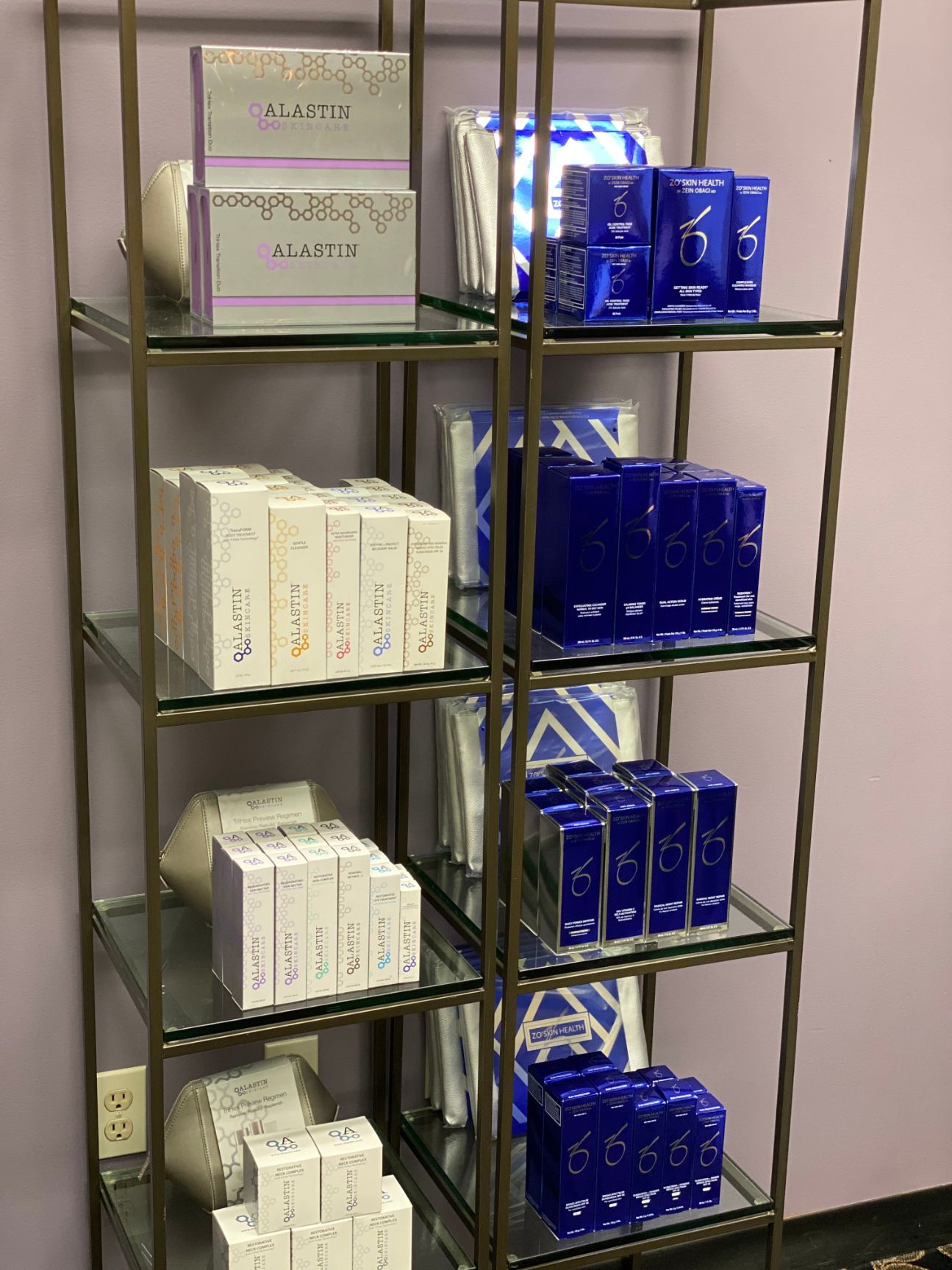 Description of Skin Care Products
Our Advanced Aestheticians are available to recommend the best products to achieve your goals. Many of these products require medical supervision.  We offer an array of products that can be used in a customized sequence for your specific skin requirements. Clinically researched formulas help reduce the depth of surface lines, smooth rough skin texture, treat skin discoloration and redness, and assist in cleaning acne/blemished skin without the downtime often associated with chemical peels. These are medical grade formulas available only through professional health care offices, like ours.
Antioxidants
Sun damage also contributes to the production of free radicals in the body. Free radicals are damaged molecules swimming through the body looking for healthy cells from which to steal electrons in order to become balanced. This scavenger process destroys skin and speeds up the aging process.
Vitamin C is a strong antioxidant that neutralizes free radicals. Research also shows that Vitamin C increases collagen production, an important support structure for skin and acts as additional protection when used in conjunction with sunscreen. Other powerful antioxidants such as green tea extract and other botanicals are found in many of our products.
Pigment Lightening Agents
One of the most obvious signs of sun damage is uneven skin pigmentation, age spots, freckles and darker, blotchy patches. To correct this condition, a pigment lightening agent is used to lighten the darker areas. Hydroquinone is the most common ingredient and is the only FDA approved product for bleaching. Color correction can usually be achieved within a few months, and once the goal is reached effective skin care can maintain your result
Retin-A and Retinol
Most skin programs aimed at improving fine wrinkles will include the use of Retin-A, the only product on the market FDA approved for reducing wrinkles. Retin-A works by penetrating the skin's surface and repairing lower layers where collagen and elastin are produced by stimulating new cell production. As new, healthier cells grow, skin looks smoother (less wrinkled) and pores look smaller. Retin-A can improve the appearance of fine lines, mottled pigmentation, skin color and moisture levels. True Retin-A is available only by prescription and must be used with regular medical supervision.
Moisturizers
Moisturizers hydrate the outer layer of skin which makes the skin look smoother and feel more elastic. The effect is temporary. When an effective skin care program is combined with good nutrition and adequate water intake, your body should create its own hydrated skin.
However, we usually include a moisturizer in our skin care programs for two reasons:
•During the more aggressive early stages of correction, the skin may be more irritated and sensitive. A good moisturizer can relieve the minor discomfort.
•Some of the moisturizers we recommend contain a strong protective sunscreen, a crucial component of a skin care program. By combining the moisturizer with a sunscreen, patients with a hurried lifestyle can apply two products with one step.
Sunscreen
Sunscreens contain chemicals or physical blocks that filter the sun's UV rays. If you are using any skin health products, your skin will be more sensitive to sun exposure and you will need broad spectrum sunscreen protection anytime you go outside. We have several different ones to choose from depending upon your needs and preferences.
Optimal Skin Care Results
Healthy skin is achieved with regular professional treatments and dedicated home care.  Skin health products take time to achieve the desired improvements, usually 4 to 6 months before overall improvement is noticeable. You will notice subtle changes within the first 6 to 8 weeks, but a final result will take longer to develop. Once all the corrections are achieved, regular maintenance (along with good nutrition, exercise and hydration) will be required to continue the improvements.  When using effective products on your skin, you should be monitored regularly by a medical professional trained in skin care.
Advanced Cosmetic Surgery and laser Center offers a variety of "skin health" programs that are excellent for creating and maintaining healthy skin.
Our Center is staffed by skin health specialists, Licensed Advanced Aestheticians with special training in the use of these products.
These products are so effective that we use them as an important part of before and after surgical care because they greatly enhance the healing process and help achieve better surgical results.