Rhinoplasty Specialist ("Nosejob")
Many people who choose to have a rhinoplasty procedure have endured years – or even a lifetime – of self-criticism and, too often, teasing. Even if the joking is good-natured and even if you feel super-confident in other aspects of your life, insecurity regarding a feature as prominent as the nose can take a toll on your mental health and even distract you from the things you love.
Regularly recognized as a top surgeon in the field, Dr. Mendelsohn has performed more than 1,200 rhinoplasty procedures. He and his team understand that a rhinoplasty does more than change the shape of your nose – it changes your outlook on life.
We will take the time to thoroughly understand your concerns, such as the overall size, length or width of your nose, a hook or bump on the central nose or a bulb on the end of the nose. Using detailed illustrations and photos of your face taken from multiple angles, Dr. Mendelsohn will demonstrate how a rhinoplasty procedure will bring your facial features into complementary proportions.
Just as every face and definition of beauty is different, every rhinoplasty treatment is personalized to create natural results that look, and feel, like you.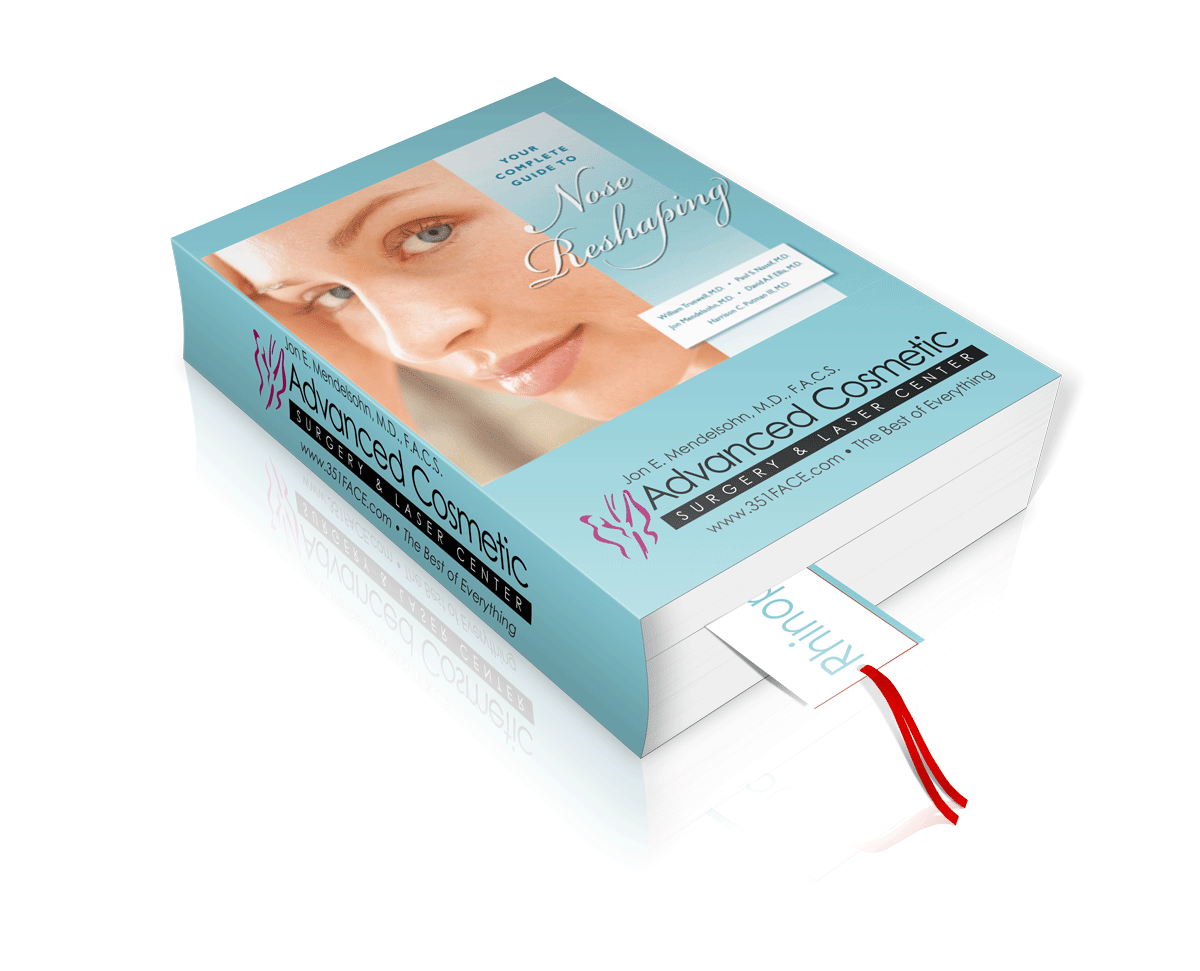 Free Download: Your Complete Guide to Nose Reshaping
Interested in a free download of our eBook?
Submit your email below and we'll send you an instant download of Your Complete Guide to Nose Reshaping.
In the old days of purely "reductive" closed rhinoplasty, plastic surgeons would perform a rhinoplasty by simply removing cartilage, removing bone and thereby narrowing and shrinking the nose.
With time, the unpredictable nature of scar tissue contracture would end up distorting many of these noses. The results were unnatural appearing noses.
With today's techniques, the rhinoplasty surgeon utilizes more grafts and struts and below is a list of useful terminology for today's open approach.
SUTURE MATERIAL IN RHINOPLASTY:
GRAFT MATERIAL IN RHINOPLASTY:
IMPLANT & ALLOPLASTIC GRAFTS USED IN RHINOPLASTY:
SUTURE TECHNIQUES IN RHINOPLASTY:
Ready to Take the Next Step for Your Rhinoplasty?
Let's Start Your Virtual Consultation
Contact us through the form below and include an optional photo of the area you're looking to address, and we'll get back in touch with you shortly.