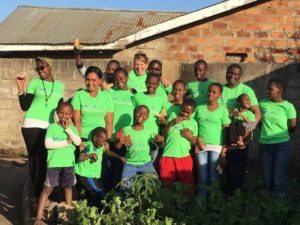 The 10th Annual KaramaRama fundraiser takes place on Saturday November 12th from 7-11p.m. at the Sawyer Point Building Atrium, 720 E Pete Rose Way, Cincinnati, OH 45202. Individual tickets are $60.00, and corporate tables may be purchased for $1000.00, with net proceeds benefitting the Karama Connection, a 501(c)(3). Ticket price includes heavy hors d'oeuvres, entertainment and a silent auction.
The Karama Connection was established in 2005 by Cincinnati native Connie Naber after she traveled to the East African country of Tanzania to meet a very special group of children living in an orphanage. She now owns and lovingly operates the orphanage, which currently supports and provides the housing, medical, nutritional and educational needs for 15 children ranging in ages from 7 to 21, 10 of whom are HIV positive. The children lovingly refer to Naber as "mama," and although she does have extended visits with them several times a year, she makes sure to Skype with them on a daily basis, sometimes several times a day.
Says Naber, "The medical costs for children who are HIV positive is astounding. The monies raised by this event will be used to assure that my children receive the proper nutrition and medication that they so desperately need, so that they can live a healthy and long life. The foundation also covers the cost of their education, as the schools the children attend are all private and tuition based, with the eldest children attending boarding school. My goal is to provide as much love and support for my children as I possibly can while I am visiting with them for extended periods and also when I am away, so they know that I will always be a constant presence in their lives. They have big dreams – of attending college, becoming physicians and teachers and carpenters and of getting married one day. I am going to make sure that these dreams are possible for all 12 of them."
Naber adds, "I hope that attendees of this event will feel that they, too, have gotten to know each of my children by visiting with them on Skype and reviewing their photos, stories and life goals which will all be on display."
Several live Skype sessions with the children will take place at the event beginning at 9:45 p.m., so that guests will feel a personal connection with the children. Additionally, patrons will have the opportunity to sponsor the medical and educational needs of each of the children individually in conjunction with the Silent Auction. Ceramic butterflies that have been hand- painted by the children in a cooperative effort between Happen, Inc. and the Mendelsohn Foundation For The Arts, will also be available for purchase. Perhaps the most unusual, but most certainly not the least important will be the sale of live goats, which will be ticketed at $100.00 each. A few the other silent auction items include: vacation condos, an Andy Dalton signed jersey, artwork, photography, soccer balls and other recreational items that will be shipped directly to the children.
To purchase tickets go to karamaconnection.org. For more information on the Karama Connection call 513- 300-1603