Advanced Vein Solutions Center at Advanced Cosmetic Surgery & Laser Center is pleased to offer complete vein treatment. We offer a complimentary consultation to assess the nature of your vein concerns, from minor spider veins to severe varicose veins. We can provide you with complete care of your veins by experienced and respected physicians and physician assistants with years of experience in the field of phlebology.
Karen Whitney, PA, will see you for your venous screening and consultation.  Ms. Whitney has specialized in the treatment of leg veins for over 17 years, and has treated an estimated 3,000,000 veins with sclerotherapy, as well as being trained in ultrasound of the legs for screening to assess the underlying venous system.

What are spider veins?
Spider veins, or surface veins, can look like fine red lines to dark purple splotches. You may also see reticular veins, which are flat or slightly raised greenish to bluish veins. Both are effectively and safely treated with sclerotherapy. All veins, including spider veins, are due to heredity and are aggravated by prolonged sitting or standing, pregnancy, excess weight, and hormonal changes, among other factors. These veins tend to increase by expanding and darkening with the passage of time.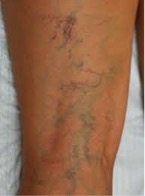 Spider and Reticular Veins
Sclerotherapy is the preferred method of spider vein treatment. Sclerotherapy is a small injection into the vein with an irritating solution which damages the vein, causing it to collapse. The needle used is very tiny so discomfort is minimal, although most patients feel a temporary stinging. Compression hose are worn after each treatment, and there will be small bruises afterwards. You are able to return to normal activities immediately. A series of two to four treatments will be performed monthly, depending on the severity of your veins. Both small and larger bulging varicose veins can be treated with sclerotherapy to avoid surgical removal, once all underlying medical veins have been addressed.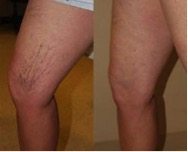 Spider Veins Before & After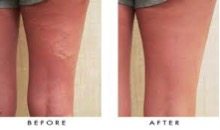 Reticular Varicose Veins Before & After
Treatment pricing begins at $350 and includes your graduated compression stockings, which are worn after each treatment. Sclerotherapy is not covered by insurance. During your consultation we will advise you on the total cost and expected number of treatments so you can plan forward. Our goal is to achieve maximum clearing of your leg veins so you can wear skirts, shorts and your swim suit with confidence.
Varicose veins, or medical veins caused by venous insufficiency, are diagnosed with a diagnostic ultrasound. If your screening examination reveals a possibility of venous insufficiency, you will be seen for this diagnostic test and you will be treated with endovenous laser ablation, or EVLT. Click here for more information regarding diagnosis and treatment of varicose veins.
For more information regarding overall treatment of leg veins you can go the American College of Phlebology at this address for patient education videos: http://www.phlebology.org/patientinfo/index.html
Ms. Whitney has been a member of the American College of Phlebology for over 15 years and regularly attends their conferences and trainings to stay current in the arena of leg vein treatment and care.
Call us now for your complimentary consultation so your legs can look and feel their best.
Advanced Vein Solutions Center at Advanced Cosmetic Surgery & Laser Center