Day 8 – Wednesday, June 29
This post comes from Connie Naber, Founder of Karama Connection
I took the Mendelsohns to Maasai land.  It is where the family of 2 of my children are from.  Because of health issues, it's impossible for them to care for Amani and Kene but I like to keep the relationship with the family.  
It's a long drive on very bumpy roads but worth the trip to see this beautiful land and family.  As a gift for caring for their children, the family presented me with a goat.  It would be extremely rude to not accept this as it's a lot of money for them.  Soooooo….the Mendelsohns had to endure a little goat perfume on our ride home.  All part of the adventure!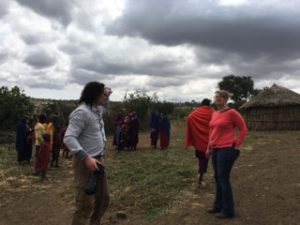 I made Jon and his family ride in the car for a couple of hours with this goat…it was a gift!…you can't say no to a gift!