BOTOX ANYONE?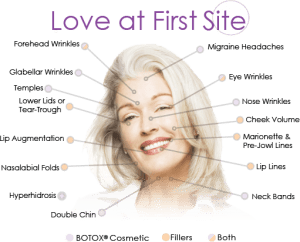 Here is the latest news on numbers of botox treatments in the US from information released by the American Society of Plastic Surgeons (ASPS) last month for procedures in 2016,  as reported by the Aesthetic Channel.
Botulinum toxin reigns among the minimally invasive cosmetic options. Plastic surgeons performed 15.5 million minimally invasive procedures in 2016, of which botulinum toxin type A was number one in the top five, with more than 7 million procedures in 2016. Soft tissue fillers came in second at more than 2.6 million procedures. Rounding out the top five minimally invasive cosmetic procedures by plastic surgeons last year: Chemical peels, up 4% from 2015; laser hair removal, which was a percentage point down from 2015; and microdermabrasion, which also fell from the prior year in popularity, by 3%.
Did you know that Advanced Cosmetic Surgery & Laser Center is among the top 500 practices in the US offering Botox Cosmetic? In addition, our lead injector, Karen Whitney, PA, is 
one of 
an elite group of national trainers, as an Allergan ACE Injector Trainer. The ACE training faculty was developed by Allergan, Inc., the makers of Botox®, Juvederm, Kybella, and Latisse, to ensure optimal patient outcomes across the United States. ACE trainers train physicians and other aesthetic healthcare practitioners on the safe and effective use of these industry-leading products. Karen is one of 190 injectors across the US to be chosen as an ACE trainer.