by Liz Bonis, WKRCMonday, July 15th 2019
https://local12.com/health/medical-edge-reports/combo-treatment-helps-reduce-appearance-of-neck-wrinkles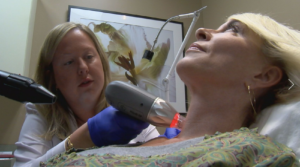 NORWOOD, Ohio (WKRC) – If your years in the summer sun are making it hard to age gracefully, a new combination therapy might help turn back the hands of time, especially when it comes to your neck.
Those neck areas can be tough to turn around, or at least they were until now. The Advanced Cosmetic Surgery & Laser Center in Norwood has the newest therapy to reverse damage from the sun. It actually works by doing a little damage of its own.
Those warm, sunny beach days can catch up with any of us, and for Neva Rogers, she says she can see she has a little damage from enjoying the sun and outdoors. So, she recently decided to try one of the newest combo treatments for skin damage on her neck.
"I would like the skin to look a little smoother, not so crepey," Rogers said.
It's called the PiXel8; it combines microneedling with radiofrequency. Hope Merz says for about 10 to 15 minutes, they move a handpiece over the treatment area. It has 49 tiny needles that you can barely feel with a burst of thermal energy called radiofrequency that contracts the tissue and tightens.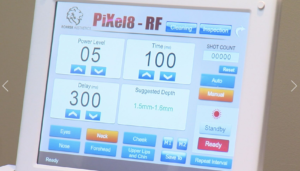 Facial plastic surgeon Dr. Jon Mendelsohn says you are actually damaging the skin while performing this procedure.
"Microneedling is a mechanical stimulation, so we're actually mechanically injuring the skin and then we're also using a thermal injury, which is the radiofrequency," said Dr. Mendelsohn.
The treatment works to restore the loss of elasticity that sun exposure causes. This isn't something that you would typically see a change in right away, but, over time, the layers underneath the skin change to enhance that youthful appearance with subtle changes, but, sometimes, the subtleties are really big.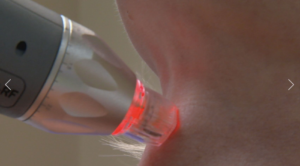 A single treatment of this combo is about $850. You do need three or four for good results. In most cases, it is not covered by your medical insurance plan.
There are very few side effects and very little downtime. This therapy can also be used on other parts of the body.