CINCINNATI, OH – January 1, 2020 – Dr. Jon Mendelsohn rang in the millennial by opening his current practice in Rookwood Office Tower in Hyde Park.  Says Mendelsohn, who is double board certified in both Facial and Plastic Reconstructive Surgery and Otolaryngology: Head and Neck Surgery,  "I started my practice in 2000 with a solid business plan, and a good deal of determination and faith.  According to the Bureau of Labor Statistics, 20% of new businesses fail during the first year of operation, and by year five, more than 50% have closed their doors. But fortunately I ended up achieving the goals set forth in my 10-year business plan within the first 18 months of operation, largely due to my highly experienced, dedicated and caring staff, and also my loyal patients who continually send me referrals. A large percentage of my patients have been coming to our practice for 20 years, and have truly become a part of our Advanced family. It does make me feel old, however, when my patients' adult children start coming to our practice for treatments."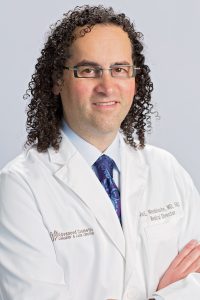 "Reflecting back on our first twenty years, there have been tremendous advancements in the field of plastic surgery," says Mendelsohn. Botox, the first neurotoxin, was introduced back in 2002, and I was one of the first providers in Cincinnati to begin using it. I held the city's very first educational Botox party to increase awareness – can you imagine there ever being a time when no one had heard of Botox?  The product was originally introduced at $25 per unit, and now fluctuates anywhere from $12-$17 per unit nationally. In fact we recently started a "Botox War" when we offered Botox for just $7.99 per unit. Neurotoxins have continued to evolve, and there are now three other competitive brands in the marketplace. Additionally, the medical uses for Botox have continued to evolve, as it is being used successfully to treat migraines, hyperhidrosis, overactive bladders, and a host of other conditions."
Mendelsohn continues, "Perhaps one of the biggest advancements that has universally revolutionized the cosmetic surgery industry in the past twenty years is the use of hyaluronic acid-based fillers, which became prevalent around 2000. They are used on faces to increase volume, alter contours, plump lips, reduce static wrinkles or lines, and create a more youthful appearance. The advantages are that there is little to no discomfort or down time, and the results are usually immediate, lasting anywhere from eighteen months to two years.
We now have an skin care division known as Studio A, with a team of 6 highly experienced providers who perform both our Botox and filler injections, as well as the full gamut of cutting-edge facial treatments including lasers and micro needling. 20 years ago I could only dream to have a team of 6 extremely talented professionals running this division of our practice."
"Gone are the days of facelifts that are performed in a hospital under general anesthesia where the patient leaves with drains in his or her face, and a tight or pulled back look," says Mendelsohn. "The fundamentals of how we perform this procedure have changed in numerous ways.  We reposition the sagging tissue of the face in a more vertical versus horizontal vector, and we go deep underneath the fascia, (often referred to as the SMAS layer), to release the ligaments which allows us to reposition the sagging tissue with very little tension. The end result is a more natural appearance rather than the "windblown" look. Additionally, we perform our Advanced Facelift in right in the O.R. in our medical office under local anesthesia, which results in a shorter recovery time. The entire procedure takes about an hour.
Rhinoplasties or nose jobs, actually date back to the late 19th century. This is a complex procedure that involves bone, cartilage and skin and requires extensive specialized training and experience. In the past, rhinoplasties often produced what actually looked more like nose jobs than actual noses. As with facelifts, that 'done' look has become less common as our surgical techniques have advanced. Most of our patients want a natural- appearing nose. Gone are the days of requesting a turned up or pinched in nose. They want a nose that looks like they were born with it. What hasn't changed, however, is the psychological impact of a patient seeing themselves with a new nose – which is always an emotionally charged moment for both the patient and me."
He continues, "The demographics of our patients have also shifted.  We are seeing an increasingly larger number of millennials, who are seeking "prejuvenation." Patients aren't willing to wait as long as they used to for the first signs of aging to hit.  Botox has been proven to diminish the appearance the dynamic wrinkles that are caused by movement, such as smiling or frowning, before they become too deep.  We have actually injected patients who are in their 20's who want to get a jumpstart on maintaining their looks. According to the American Academy of Facial Plastic and Reconstructive Surgery, the past year 72% of facial plastic surgeons saw patients younger than 30 seeking cosmetic surgery or injectables, a significant increase from previous years when the figure was just 56%."
Additionally, we are now seeing more male patients than ever before for everything from Botox to eyelid surgery to Advanced Facelifts. Many say that a more youthful, refreshed appearance gives them a competitive edge in the workplace.
We have recently experienced an uptick in facial "feminization" surgery during the past 2-3 years. With reports estimating that close to 1.5mm Americans identify as transgender, procedures designed to make features either more masculine or feminine are on the rise. For our male patients transitioning to women we often perform chin reductions, brow reductions, a rhinoplasties, and lip lifts, with amazingly natural-looking results."
"U.S. Physicians began advertising in 1980, and the pace has really picked up over the past 20 years, which has increased the competition for plastic surgery practices nationwide," says Mendelsohn.  However, this has allowed Advanced to differentiate ourselves with some very creative and distinct traditional and non-traditional advertising campaigns over the past two decades. (See attached examples.)
Another major milestone occurred in 2011, when RealSelf.com was introduced. This a website that allows patients to honestly review and share their cosmetic experiences with plastic surgeons and dermatologists nationwide. These reviews are unbiased and unaltered, and patients may upload their before and after photos of various procedures. I am pleased to say that we have a 5-star rating from our patients. Plastic surgery is no longer taboo and most patients are willing to share their experiences with others openly and honestly.
Technology in the field of plastic surgery has also continued to evolve, and we pride ourselves on being early adopters as we are usually one of the first in the region to provide the most cutting-edge equipment, techniques and lasers use to treat our patients. Our internal technology is evolving also with the addition of our new patient portal and new, high-tech media center that is used for commercial production, taping our True Selfies series, (where patients share their plastic surgery journeys), and also to produce our educational podcasts. The studio is equipped with professional lighting, cameras, sound, green screens, a teleprompter and an editing bay. If someone would have told me 20 years ago that my practice would now house a full-service production facility, I would have looked at them in a state of total disbelief."
So what does the future hold? According to Mendelsohn, "In the next 20 years we will continue to see additional uses for PRP or platelet-rich plasma in plastic surgery.  We will also begin seeing more stem cell usage as studies are currently underway for uses in the areas of burn care and scar treatment, fat grafting, nerve regeneration and even hand and face transplantation."
And in the New Year, we expect to see some new longer-lasting fillers that actually mimic the texture of one's skin. They are designed to match different parts of the face, and there are some that actually have a tendency to act like an extension of your bones. So if you want to have a boney cheekbone, you can actually add it to the bone area. And if you want a softer appearance, you would inject it above the bone. They are expected to last anywhere from three to four years, versus our current products which typically last 18 months to two years, as stated previously.
Of course, thanks to its versatility, the popularity of Botox will continue to skyrocket, and a 'Botox facial' which uses Botox in conjunction with microneedling, will be used to give the skin a smooth and radiant appearance. Non-surgical, non-invasive body tightening and contouring procedures including temperature-based treatments such as microneedling with radiofrequency and Coolsculpting, which actually freezes the fat cells, as well as new Emsculpt, which actually builds muscle and burns fat using a high intensity electro-magnetic technology, will also continue to be alternatives as they are convenient painless, and require no down time."
Dr. Jon E. Mendelsohn is the Medical Director of Advanced Cosmetic Surgery & Laser Center in Rookwood Office Tower.  A renowned specialist in Facial Plastic Surgery, Dr. Mendelsohn is double Board Certified by the American Board of Facial Plastic & Reconstructive Surgery and also the American Board of Otolaryngology – Head & Neck Surgery and has performed more than 3,000 facelifts in his career. Mendelsohn has been featured in the national media – including USA Today and CNN New Day, as well as The Doctors TV Show. For more information, visithttps://351face.com/.