Karen Whitney, PA-C of Advanced Cosmetic Surgery & Laser Center Selected By Allergan As One Of The Top AMI Trainers In The Nation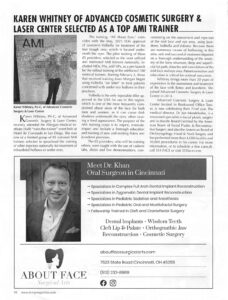 Karen Whitney, PA-C, of Advanced Cosmetic Surgery & Laser Center, recently attended the Allergan Medical Institute (AMI) "train-the-trainer" event held at Hotel del Coronado in San Diego, CA. She was one of a limited group of 85 national AMI trainers selected to spearhead the training of other injectors nationally for treatment of infraorbital hollows, or under eyes. 
The training, "All About Eyes," coincides with the May, 2021 FDA approval of Juvederm Volbella for treatment of the tear trough area, which is located underneath the eyes.  The pilot training of these 85 providers, selected as the most utilized and interested AMI trainers nationally, included MD's, PA's, and NP's, as a pre-launch for the rollout training of the additional 300 national trainers. Starting February 2nd, those that have received training from Allergan will begin using Volbella "on label" to treat patients concerned with under eye hollows in their practices. 
Volbella is the only injectable filler approved in the USA for use in this region, which is one of the most frequently complained about areas of the face for both men and women, as it can cause dark shadows underneath the eyes, often causing a tired appearance. The purpose of the AMI training corps is to inspire, innovate, impact and include a thorough education and training of new and existing Botox and Juvederm providers. The 85 providers, who will be training others, were taught with the use of cadaver labs, slides, and live demonstrations, concentrating on the assessment and injection of the mid face and eye area, using Juvederm, Volbella and Voluma. Because there are numerous causes of hollowing in this area, safe and successful treatment depends on a thorough understanding of the anatomy – of the bony structure, deep and superficial fat pads, muscles and vasculature of the mid -ace and eye area. Patient selection and education is critical for optimal outcomes. 
Ms. Whitney brings over 20 years of experience in the assessment and treatment of the face with Botox and Juvederm. She joined Advanced Cosmetic Surgery & Laser Center in 2014.
Advanced Cosmetic Surgery & Laser Center located in Rookwood Office Tower, is now celebrating their 22nd year. The medical director, Dr. Jon Mendelsohn, is a  renowned specialist in Facial Plastic Surgery, and is double Board Certified by the American Board of Facial Plastic & Reconstructive Surgery and also the American Board of Otolaryngology – Head & Neck Surgery and has performed more than 4,000 facelifts and 10,000 procedures in his career. Mendelsohn appears on a regular basis in the Cincinnati media, and has also been featured in the national media – including USA Today, The Washington Post, Becker's Hospital Review, CNN New Day, as well as The Doctors TV Show.  For more information, or to schedule a free consult, call 351-FACE or visit www.351face.com.
[/expand]
Ready to Take the Next Steps to a Younger Looking You?
Let's Start Your Virtual Consultation
Contact us through the form below and include an optional photo of the area you're looking to address, and we'll get back in touch with you shortly.